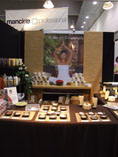 Victoria's Essentials New Chemical Free, Fresh Spa Treatments offering our customers over 30 chemical-free treatments.
Recently, at the Melbourne International Beauty Expo, Victoria's Essentials launched our latest Victoria's Essentials Fresh Spa Range represents a new approach to Spa Treatments. Fresh Spa is the result of research into cutting edge Spa Techniques, which uncovered the following trends:
Treatments avoiding harsh Chemicals and Preservatives

Involving the Therapist and Client in the preparation of Treatments

A movement towards unique and interesting Treatments that set a Spa apart from the res

Using traditional Herbal Treatments in place of costly, Treatments that are often inferior.
Our formulations team have sourced the finest fresh herbs, spices and botanicals, which are then dried and finely ground before being blended to make our traditional and unique products. This process allows us to maintain the highest quality and freshness of every Treatment supplied to our customers.
For more information about these chemical free treatments visit our website http://www.victoriasessentials.com/
Retail: It's All About Texture
At Victoria's Essentials it is all about being unique and our new Spa Retail range is no exception. As part of our 2008 Product launch, visitors to the Melbourne International Beauty Expo experienced an entirely new look in retail Spa Products.
When designing the packaging we chose unique materials, including recycled tyres, wallet materials and vinyls. Each tube is handmade and stitched.
Our Retail products include 5 Product Ranges formulated to support our Fresh Spa Treatments and available at an affordable price with maximum profit for our customers.
For more information email us sales@victoriasessentials.com or click here to visit our website.
Treatment Spotlight: Tribal Blends: Boreh, Lulur and Mangir, A Tribal Treatment Experience
With greater competition and client demand for exotic Spa Treatments, Spas are constantly searching for new and interesting Treatments. Our Treatments include traditional, chemical free, herbal body scrubs and masks that leave the client in feeling cleansed and rejuvenated.
Our Boreh Mask is one of our Traditional Tribal Treatments. It contains exotic combinations of freshly ground spice including Kencur and Babakan Cacil together with warming Clove, Ginger and Nutmeg. This Natural aromatic mask is blended with unscented lotion, aloe vera or coconut mild, applied to the entire body and allowed to dry. The Boreh Body Treatment has been used by Indonesian Villagers for centuries to draw out impurities, stimulate circulation and warm the body to promote overall wellness.
Our new Fresh Spa Masks and Scrubs add to our original IONIC Mask Treatments, Australian Organic Clay Powders and Victoria's Essentials own cellular detoxifying Crystal ION 120tm.
Newsletter Special:

10% off All Fresh Spa Treatments
This Entitles to a 10% Discount off our Fresh Spa Treatments until 20 June 2008. (For orders placed via our online store)
Code 18568
Learn more about Victoria's Essentials
Next Issue:
Victoria's Essentials unique Private Label service
Spotlight: